In today's review, we will be reviewing the prices of Toyota Camry big daddy in Nigeria. We have give you a brief history of this particular series and the pricing in Nigerian Market.
   I know for most people, they may be wondering which car has this nickname. Well the car we are talking about here is Toyota Camry that was produced from late 2001 – 2006. This car is nicknamed big daddy in Nigeria by its users. The reason for this is the fact that the car is big inside and outside.
   Before, I jump into today's price review, let me take you back to history and show you how this models came into existence. I will also show you the pros and cons of this car, the specifications and the price of this car in Nigeria.
    A brief history of Toyota Camry Big Daddy.
  This particular generation is known as the XV30. The car is a 4-door Sedan and it was produced by Toyota Modular platform [Australia].
  This particular series was released in September 2001 for the 2002 model year. The car was released by Toyota as a larger sedan, but without a station wagon for the first time.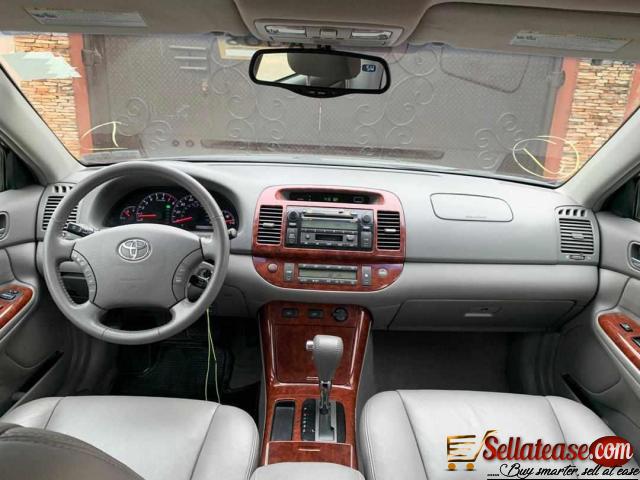 This was the first time Toyota redesigned its series since the V30 and XV10. Until 2003 model year, the Camry Solara remained the XV20 series chassis, and received only minor styling upgrades to the front and rear ends. Solara received the sake 2.4 Liter 2AZ-FE I4 engine that was available on the Camry sedan.
  The USA received three engine options, a 115KW 2.4-liter inline four, a 142 KW 3.0 liter V6, and a 157KW 3.3 –liter version of the same.
  Note: The 3.3- liter engine was only available for the Camry's sportier 'SE' model.
   Let's answer some questions our users have been asking?
     Is it true that big daddy comes in both fabric and leather interior?
  Yes, the one regarded as full option always come with leather interior. This leather interior makes it more costly than the fabric interior.
       Is the V4 engine better than the V6 engine?
  Yes, the V4 is better than the V6 engine in terms of the fuel consumption. The V6 engine is a bigger engine and it will consume more petrol.
  Lets come the price of Toyota Camry Big daddy in Nigeria.
  Let's start with foreign used or tokunbo as it's usually called.
     Price of :
| | |
| --- | --- |
| tokunbo Toyota Camry Big daddy 2002 in Nigeria | 1,200,000- 1,500,000 Naira |
| tokunbo Toyota Camry Big daddy 2003 in Nigeria | 1,300,000- 1,500,000 Naira |
| tokunbo Toyota Camry Big daddy 2004 in Nigeria |  1,400,000 – 1,600,000 |
| tokunbo Toyota Camry Big daddy 2005 in Nigeria | 1,500,000 – 1,750,000 |
| tokunbo Toyota Camry Big daddy in 2006 Nigeria | 1,600,000 – 2,000,000 |
   Price of Nigerian used Toyota Camry Big daddy in Nigeria ranges from 800,000 Naira to 1,500,000 Naira.
  Always note that the prices tends to differ depending on the overall condition of the car.
  Check out our list of tokunbo Toyota Camry big daddy for sale in Nigeria.
  If you need a sound big daddy, you can contact me on 08107992356