It would be recalled that the RX model is not model to debut with Black Line Edition, other Lexus models such as the 2021 Lexus ES, 2021 Lexus LX 570 among other models that are yet to be released. Delivering first-hand information to our readers is always our priority, that's why we are reviewing the full specifications and price of 2021 Lexus RX in Nigeria.
In a communiqué released by the company on August 26, 2020, they unveiled the all-new 2021 Lexus RX. The company also added two special editions to the RX model. The nicknamed the two new special editions as the Lexus RX 350 F SPORT Black Line Edition and the RX 450h Blackline Edition.
The refined style and function
2021 Lexus RX debuted with all the upgraded styling and refinements that were made to the 2020 model. The front and rear stabilizer bars are now hollow to reduce weight. For the fact, its hollow does not mean that its durability and overall stability, instead their thicker diameter and reinforced bushing help reduce body roll and improve steering response.
It still retained its re-tuned shock absorbers to work with stiffer rolls bars, while upgraded dampers feature friction control device that helps to control high-frequency vibrations for a smoother ride.
Multimedia
The 2021 Lexus RX still retains its moved 5.5 inches multimedia system touchscreen that offers control of both audio and climate systems. With the option of an 8-inch display and available 12.3-inch display, the users have options to choose from the two available options.
Your smartphone and other mobile device batteries cannot below with the 6 USB ports that are designated for cell phone storage and smartphone integration.
You can start your car with your smartphone remotely, contact dealers for services, etc. Although this option is not new to the RX, the 2021 model still retains it.
Dynamic Voice Command [DVC] is standard on all trims. With this new technology, you can control your car with voice commands.
Android Auto, Amazon Alexa, and Apple CarPlay are all standard for all trims.
2021 RX safety features
Safety should be a priority in anything we do on planet earth, for this reason, Lexus always reviews the safety features in their cars to make sure they attain the standards. The 2021 Lexus RX comes with new safety features. They include Lexus Enform Safety, Road Sign Assist (RSA), Lane Tracing Assist (LTA), pre-collision System [PCS], and Blind Spot Monitor (BSM) with Rear Cross-Traffic Alert (RCTA).
The RX F SPORT
As we all know right from the onset that RX 350 F SPORT is a more luxurious and sportier trim. The 2021 model is debuting with amazing premium packages. 2021 RX F SPORT packages include a unique steering wheel and shift knob, aluminum pedals, bumpers, grille, badges, front seats, meter, aluminum ornamentation, and 20″ wheels. Front and rear performance dampers, LED ambient illumination, stainless steel rear door garnish, steering memory with seat memory call, and scuff plates are also included.
Optional Handling Package includes the base F SPORT package and adds Adaptive Variable Suspension (AVS), based on the Lexus LC500. Vehicle Dynamics Integrated Management (VDIM) is added on RX 350 (standard on the hybrid). Sound generator, Electric Power Steering (EPS) sports steering, moonroof, and heated/ventilated seats are also included in the F SPORT Performance Package.
The introduction of RX Black Line Edition
A total of 1000 units of 2021 Lexus RX Black Line Edition will be produced. The two Special Editon are the 2021 Lexus RX 350 Black Line Edition and the 2021 Lexus RX 450h Black Line Edition. The company will be producing 750 units of RX 350 Black Line Edition and a total 250 in hybrid F Sport-tuned models.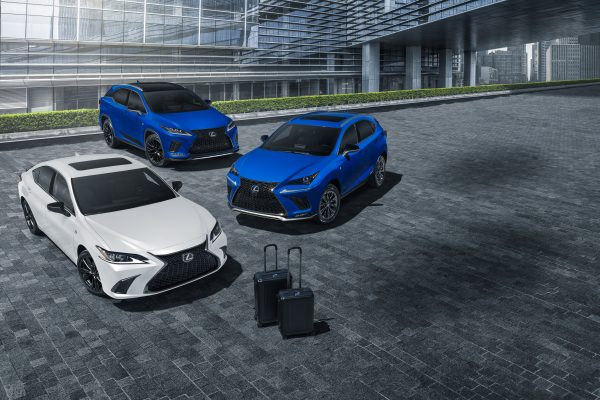 Few unique features of the 2021 RX F SPORT Black Line include a bodyside graphic on both side rockers, black 20″ wheels, dark grille surround, black seats with white accents, and blue stitching.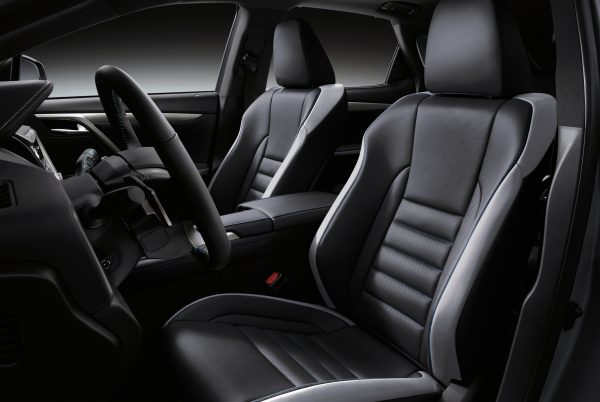 2021 RX F SPORT Black Line special edition model can be found in one of two exterior colors, Ultra White or the all-new Grecian Water. Additional content includes 20″ darkened wheels, wheel locks, grille surround, and body side graphic on both side rockers. Black outer mirrors, F SPORT exterior badging, F SPORT front and rear performance dampers, the unique fascia, front bumper and rear bumper balance the sporty features.
Zero Halliburton customized a two-piece set of travel cases exclusively for Lexus Black Line Edition.
Price of 2021 Lexus RX 350 in Nigeria.
The base price for a 2021 RX globally is pegged at
Black Line Special Edition pricing differs from that of the normal RX model. The suggested MSRP for RX 350 Black Line is $50,635, and RX 450h Black Line MSRP is $51,885.
In Nigeria, the price won't be the same due to the 70% customs duty and other taxes. The price of Lexus RX 350 in Nigeria will range from 35,000,000 to 45,000,000 Naira.
Price of tokunbo 2021 Lexus RX 350 in Nigeria
The price of tokunbo 2021 Lexus RX 350 in Nigeria ranges from 30,000,000 Naira.
Where can I buy a Lexus RX 350 in Nigeria?
If you are looking forward to buying a 2021 Lexus RX 350, I will advise you to calm down for a while because as of August 2020, the car is yet to arrive dealership stands in the USA.
The best option is to go for a 2020 model that is readily available for sale in Nigeria.
If you are looking for the best marketplace with the cheapest and best deals on Lexus RX in Nigeria, you can check out our full listing on brand new, tokunbo, and locally used Lexus RX for sale in Nigeria.
If you are new and you don't know the best price of RX, you can check our price review on the pricing of Lexus RX in Nigeria.
If you need to talk to a direct importer and car dealer, you can contact Alpha Autos on 08107992356 if you have any issue bordering you and you want the dealer to help you out.
We love comments a lot, if you have any questions, you can drop them in the comments below.