Ford F-I50 is America's best selling truck for 44 years, the company took a step forward by building an all-electric variant known as the Lightning. It's the smartest and most innovative truck the company has ever built. I will review the full specifications, release date, and price of 2022 Ford F-150 Lightning in Nigeria. The new electric truck will debut with a targeted 563 horsepower and torque of 775 lb.ft. This is the most torque of any F-150 ever. The truck is loaded, I will take the specifications one after the other so you can have a clear understanding of this great offroad truck.
Connectivity
The 2022 F-150 Lightning is packed with intelligent features. It includes the Ford Co-Pilot 360 technology, BlueCruise, Onboard Scales, Phone As A Key, Pro trailer Hitch Assist, and Ford Power-Up software updates.
BlueCruise allows for true hands-free driving on more than 100,000 miles of pre-qualified divided highways in the U.S and Canada. Ford is also planning to add Hands-free Blues Zones in the future.
The Onboard Scales uses the truck's sensors to estimate payload and tell customers how much they are hauling. It's equipped with Intelligent Range to help ensure the truck gives an accurate estimate for how far you can go.
Pro Trailer Hitch Assist: this feature automatically controls steering, throttle, and brake inputs to make hitching trailers even easier. This feature can also be found in the 2021 Ford F-150, though that one is the normal Trailer Assist, it still serves almost the same purpose.
The Phone As A key feature: this new feature allows customers to lock, unlock and start their truck without taking their phone out of their pocket or using a key fob. This feature has been in use in the 2021 Range Rover models, in the Range models, you can condition the AC, set the driver's preference, and perform other operations from anywhere. Note that before using this feature in the truck, you must activate the feature.
Ford Power-Up software updates: this feature helps to improve the performance of the truck by delivering quality upgrades, update existing features and add all-new functions and capabilities. The good news about this feature is the fact that the majority of the updates will be completed in under two minutes.
Advanced digital experience
The Lariat and Platinum series is debuting with SYNC 4A. This is a sleek, modern interface supported by a 15.5-inch touch screen and designed to adapt to driver behavior. This system employs natural voice control, cloud-connected navigation, and wireless access to your favorite services such as Apple CarPlay, Android Auto, integrated Amazon Alexa, and SYNC AppLink apps.
A 12-inch instrument elevates the digital experience. It features a customizable interface that instills confidence by naturally surfacing key information. Animated graphics smoothly relay how the vehicle is performing in hands-free highway driving mode or how well you're bringing power back to your vehicle through regenerative braking.
2022 Ford F-150 Lightning can power your home
Ford Intelligent Backup Power turns your truck into the ultimate power source for your home. It has the ability to offload 9.6 kilowatts of power that can keep your lights on during an outage while producing security by powering the home appliances, security systems, and many more.
The system is enabled by the available 80-amp Ford Charge Station Pro and home management system Ford can help install, the feature automatically kicks in power once there is an outage. The truck will automatically revert to charging its battery once the power is restored.
The average use of 30 kWh of use per day is estimated by the company. The F-150 Lightning with extended range battery can provide full home power for up to three days, as long as 10 days if power is rationed, with results varying based on energy usage.
Ford plans to introduce Ford Intelligent Power, which can use the truck power to power homes during high-cost, peak-energy hours while taking advantage of low-cost overnight rates to charge the vehicle in time for your morning drive. This will save a lot of money for those living in countries that practice that.
Ford is also teaming up with the nation's leading solar company, Sunrun, to facilitate easy installation of the 80-amp Ford Charge Station Pro and home integration system. Through this collaboration, customers will also have the opportunity to install solar energy on their homes, enabling them to power their household with clean, affordable energy and charge their F-150 Lightning with the power of the sun.
You can now power your appliances onboard
With the enhanced Pro Power Onboard, customers can power a variety of tools, electronics, and appliances away from home with built-in electrical outlets.
Standard on the base trims is the 2.4 kilowatts of power with the option for more, while Lariat and Platinum trim comes standard with 9.6 kilowatts of power, which's a combination of up to 2.4 kilowatts available through the frunk and up to 7.2 kilowatts through outlets in the cab and bed.
The latest smart features make power management easier than ever. Customers receive a FordPass notification if their truck's battery falls below one-third of its total range, and these features can even set the truck to stop using Pro Power Onboard if the battery level approaches the distance to the nearest charging station.
Ford made use of the next-generation lithium-ion battery. Its offers two options: a standard-range battery targeting 230 miles of EPA-estimated range and an extended-range battery targeting 300 miles of EPA-estimated range.
Front-loaded
A high-tech mega power frunk that offers dedicated storage under the hood, it's powered by an open and close system. This same feature can also be seen in the 2022 Hummer EV. This spacious area targets 400 liters of volume and 400 pounds of payload that is enough to stow two carry-on bags and one checked bag, or two sets of golf clubs.
The truck is designed with bumper-height clearance, this water-resistant space comes equipped with four electrical outlets, two USB chargers, and a drainable floor that can double as a food and beverage container.
It can easily power a mobile work site or an epic tailgate. The front trunk comes with 2.4 kilowatts of power, there's enough capability to plug in power tools, TVs, Laptops, speakers, etc.
The build
Ford F series is known for its rugged appearance, rugged chassis, and high performance, the Lightning is not going down on the laid down principles. Its military-grade aluminum-alloy body and upgraded frame support the advanced battery, while the independent rear suspension and low center of gravity help improve isolation from the road, provide a more stable ride and reduce steering roll.
2022 Ford F-I50 Lightning boasts excellent off-road performance with a 4×4 system featuring four selectable drive modes: Normal, Sport, Off-Road, and Tow/Haul.
The battery is protected by rugged under body metal skid plates, this also shields the inboard motors from tough terrain.
A waterproof casing surrounded by crash-absorption protection secures the battery itself, it has been tested at temperatures as extreme as minus 40 degrees Fahrenheit to ensure Lightning can perform when needed most.
Ford has taken the truck on series of testing to ascertain its power and overall performance.
Charging
Ford is the only automaker to offer an 80-amp charging station as standard equipment, this gives the customers an extended-range truck at home. It takes advantage of the only dual onboard charging system on an electric truck in the industry for even faster home charging.
Ford F-150 Lightning adds an average range of 30 miles per charging hour, it can also charge from 15% to 100 % in about eight hours.
FordPass offers customers access to North America's largest public charging network with more than 63,000 charging plugs and growing across the U.S.
On a 150-kilowatt DC fast charger, it can charge 54 miles of range in 10 minutes and charge from 15% to 80% in about 41 minutes. That's super fast.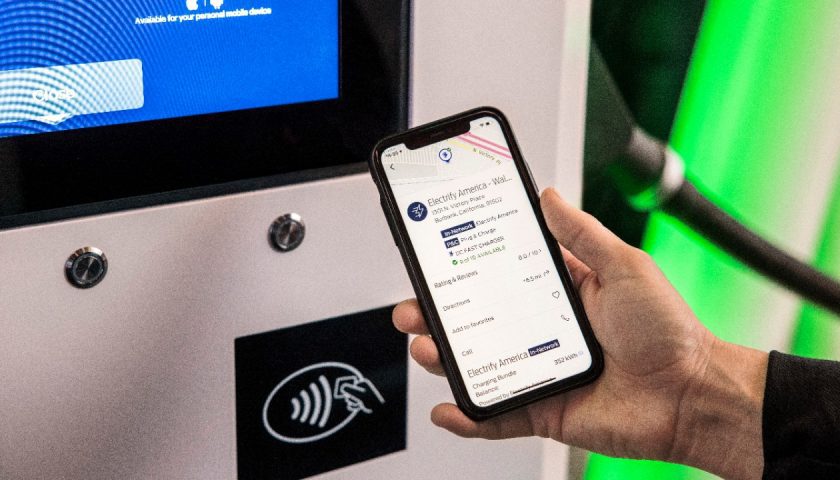 The FordPass my trip identifies the charging routes before even starting your journey.
High tech design
Key elements include available LED lightbars that run across the front and rear, plus three new grille designs that bring a bold new look to a familiar face while maintaining Built Ford Tough authenticity.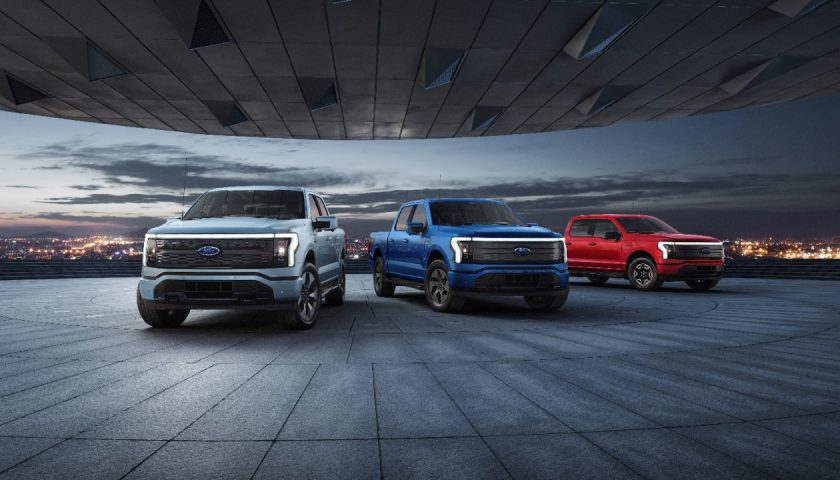 The truck is the most aerodynamic F-150 ever, with improvements like newly shaped running boards, a sculpted hood to reduce drag, and grilles that replace air intake holes with a smoother, textured surface. Even more functional design delivers available enhanced 360-degree Zone Lighting, which can light up a specific zone or the entire area around the vehicle.
It makes no compromises on space, maintaining the same cab and bed dimensions as its gas counterpart, so it remains capable of accommodating thousands of accessories already available. The available fold-out Interior Work Surface makes working inside the vehicle even easier and more productive, while available Max Recline Seats offer nearly 180 degrees of recline to help customers recharge as needed.
Power, torque, speed, and towing capacity
The all-new 2022 Ford F-150 Lightning will debut with a targeted power output of 563 horsepower and torque of 775 lb.ft.
The truck can accelerate from rest to 60 mph in the mid-4-seconds range when equipped with an external range battery.
It also targets a maximum of 2,000 pounds of payload in a standard-range model with 18-inch wheels and a maximum of 10,000 pounds of available towing capacity on XLT and Lariat trucks with the extended-range battery and Max Trailer Tow Package.
Available trims
The truck will be available in four series and two battery options.
Assembling
The truck is assembled in America, F-150 Lightning will make use of the new, state-of-the-art Rouge Electric Vehicle Center, which will also be a zero-waste-to-landfill site.
Ford is investing $700 million into the historic Rouge Complex, adding 500 new jobs and employing advanced sustainable manufacturing technology to build the truck as part of its commitment to becoming carbon neutral by 2050.
Launch date
The all-new 2022 Ford F-150 Lightning will arrive in spring 2022.
Global pricing of 2022 Ford F-150 Lightning
The Manufacturer's Suggested Retail Price starts from $39,97 for the commercial-oriented entry model, while the mid-series XLT model starts at $52,974, this model offers additional comfort and technology.
Note: the prices do not cover taxes.
Price of 2022 Ford F-150 Lightning truck in Nigeria
The price of 2022 Ford F-150 Lightning electric in Nigeria will start from 19,000,000 Naira for the entry model, while the luxury model will start from 25,400,000 Naira.
Note that the above price does not cover taxes and customs duty.
With full taxes and customs duty, the price will start from 40,000,000 Naira and 50,000,000 Naira respectively.
Where can I buy a Ford F-150 truck in Nigeria?
I advise you to go through our listing on brand new, tokunbo, and locally used Ford F-150 for sale in Nigeria.