Damini Ebunoluwa Ogulu popularly known by his stage name, Burna Boy was born on the 2nd of July 1997. Burna Boy is a big name in the Nigerian music industry. He is a Nigerian singer, songwriter, and record producer. He came to the limelight in 2012 after he released a lead single titled "Like to Party", ever since then, he has gone global. We will be giving you Burna Boy's biography, cars, and net worth in 2022.
Brief Biography of Burna Boy
Burna Boy was born on 2nd July 1991 in Rivers State Nigeria. His mother, Bose worked as a language translator and his father, Samuel, managed a welding company. He grew up in Southern Nigeria and began making his beats using FruityLoops.
He attended Corona Secondary School in Agbara in Ogun, he later relocated to London to further his studies.
Burna Boy's cars
Burna Boy just like every other celebrity loves exotic cars but he loves the class. For example, he acquired a 2022 Lamborghini Urus Novitec Edition, he didn't go for the normal model, that's to show you how classic he is.
Recommended for you: Davido's cars
Burna Boy's 2022 Lamborghini Urus Novitec Edition
Burna Boy acquired a brand new 2022 Lamborghini Urus Novitec Edition worth over 250,000,000 Naira excluding shipping and clearing costs. The Novitec Edition is a special edition that is tuned by the company for higher performance, improved aerodynamics, and more aggressive exterior design.
Range Rover Autobiography
The popular singer acquired a Range Rover Autobiography which he announced on his Instagram page, unfortunately, the luxury SUV caught fire along Lekki-Epe Expressway a few months later. No life was lost in the incident.
Burna Boy's 2013 Ferrari 458 Italia
He bought a 2013 Ferrari 458 Italia a few days before his birthday. He was seen cruising around town in the luxury supercar.
2013 Ferrari Italia comes standard with a 4.5L V8 gasoline engine that produces 562 hp at 9,000 rpm and maximum torque of 398 lb-ft at 6,000 rpm. The engine is mated to a 7-speed automated manual transmission for maximum performance. The luxury supercar adopts a rear-wheel drive system.
Rolls-Royce Dawn convertible
In 2019, Burna Boy bought a brand new 2019 Rolls Royce Dawn convertible worth over 200,000,000 Naira to celebrate a successful 2019. The car is one of the most luxurious cars in his garage.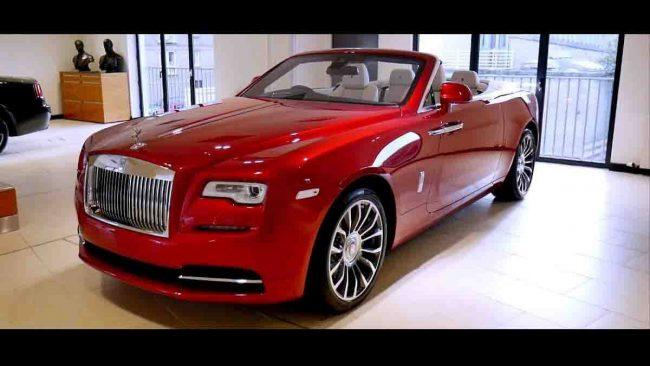 The 2019 Rolls Royce Dawn features a 6.6-Liter twin-turbocharged V12 engine that produces 563 horsepower. The engine is mated to an eight-speed automatic transmission. The base model comes with a price tag of $368,850.
Mercedes-AMG G63
The Mercedes-AMG G63 is a must-have car for every celebrity. Aside from its luxury features the car is a perfect off-road vehicle. Burna Boy owns one of the many units of Mercedes-AMG G63 SUVs.
Mercedes-Benz S-Class
Burna Boy owns a luxury Mercedes Benz S-Class. The S-Class is a sedan that is good for chauffeur driving. It comes with bigger leg room at the rear for maximum comfort for the rear passengers.
Bentley Continental GT
Burna Boy's latest Mercedes-Maybach S650
 Burna Boy has acquired a Mercedes-Maybach S650 sedan which costs over 250,000,000 Naira. The luxury sedan comes with an interior that offers the same luxury as the interior of a private jet. Its front hood is filled with a 6.0-liter V8 which combines with a 48-volt hybrid system to produce a whopping 496 horsepower. The engine is mated to a 9-speed automatic transmission for improved performance.
The luxury Maybach Sedan can hit 60 mph from 0 in just 4.0 seconds and 100 mph in just 10.1 seconds, its top speed is pegged at 130 mph.
Burna Boy's latest Lamborghini Aventador SVJ
The Lamborghini Aventador SVJ coupe is one of the luxury cars Burna Boy recently acquired. The supercar comes standard with a naturally aspirated 6.5-liter V12 engine that produces 769 horsepower and 531-pound feet of torque. A seven-speed automated Manual transmission distributes the torque to all four wheels.
The luxury car accelerates from zero to 60 mph in just 2.7 seconds, its top speed is pegged at 221 mph. The price of Burna Boy's latest Lamborghini Aventador SVJ in Nigeria ranges from 300,000,000 Naira.
Burna Boy's customized Bugatti
Burna Boy also acquired a Bugatti in his latest purchase. He made it public on his official Instagram handle. We don't know if it's a Chiron or Veyron, we will update the article once we get the full details.
Meanwhile, you can read about the price of Bugatti Chiron in Nigeria in our price review article.
Burna Boy's Net worth in 2022
In 2022, Burna Boy's net worth is estimated at 8 Billion Naira.
Quick facts about Burna Boy
| | |
| --- | --- |
| Real Name | Damini Ebunoluwa Ogulu |
| Stage Name | Burna Boy |
| Mother | Bose Ogulu |
| Date of birth | 2 July 1991 |
| Burna Boy's age | 31 years old |
| Occupation | Singer, songwriter, and record producer |
| Cars | Lamborghini Urus Novitec Edition Rolls Royce Dawn Ferrari 458 Italia Mercedes Benz S-Class Bentley Continental Range Rover Autobiography |
| Burna Boy's Net Worth | 8 Billion Naira |