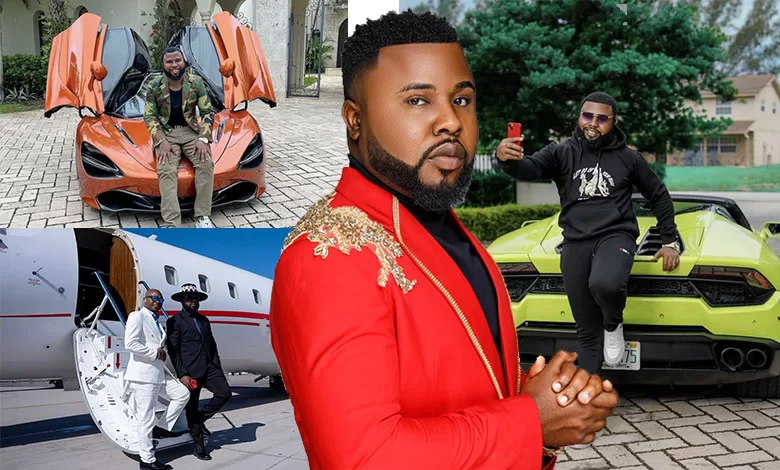 Gaius Chibueze popularly known as Bitcoin Chief is a Nigerian crypto influencer and a real estate developer who is based in Miami. Information made available to Sellatease has it that he started buying Bitcoin in 2011, and his net worth leaped when the prices of crypto increased. The Enugu State indigene is one of the top crypto billionaires in the country right now. You will get to know more about Gaius Chibueze (Bitcoin Lord)'s net worth, cars, business, and biography in this article.
Biography
Gaius Chibueze was born on March 3rd, 1988 in Ikom, Cross River State, Nigeria. He hails from Enugu State. He is popularly known as Bitcoin Chief owing to the exploits he has done in the crypto world.
Bitcoin Chief attended Government Science School Agbokim Waterfall in Enugu State from where he moved to the College of Education, Akamkpa Cross River State. He bagged Bsc in Business Administration from the National Open University of Nigeria.
Marital life (Wife and children)
Gaius Chibueze is married to Kevin Oluchi Chibueze, the union is blessed with two children, Russell Ikemba Chibueze and Chimaroke Ekun Chibueze.
Businesses
Bitcoin Chief didn't just fly to the position he is now, he labored hard for it. He started as a rapper with the stage name "Sosoflow". He performed in many shows in Calabar and Enugu in his bid to take the music industry by storm. He merged his music career with selling shoes to keep up as an upcoming artist.
However, things took a positive turn when he wrote two books titled "How Bitcoin Changed My Life" and "Get Rich Off The Net" for which over 5000 copies were sold on Amazon.
Gaius Chibueze launched TATCOIN Digital Currency with his ABiT Mobile Applications Limited in 2019. The new coin garnered over $1.2 million for its pre-sale. His company has three sectors, they include:
A platform for learning and trading cryptocurrencies
A platform for real estate and other property-related businesses
A marketplace where buyers can purchase or sell stuff online.
The boom in cryptocurrency ranked him among the top crypto billionaire in the country. He also served as a former Senior Adviser on New Media to a Senator at the National Assembly, Abuja.
His undying love for music made the billionaire create a record label named "Konvest Music". The record label empowers upcoming artists to attain greater heights in the industry.
He made his first $1 million in 2017 when the price of Bitcoin rose from $800-$20,000, he bought those coins in 2011 when Bitcoin was still valued at $35.
Titles
He is titled chief, he holds the title of "OME MGBE OJI 1 Of Enugu state".
Awards
Awards he has won include:
Most Promising African Entrepreneur (2012)
Digital Economy Icon (2021)
He was among the Top 3% traders globally by Volume according to Binance yearly trade ranking in 2019.
Gaius Chibueze (Bitcoin Chief) cars in 2023
Bitcoin Chief owns a range of luxury cars which include a BMW SUV, Lamborghini Aventador, McLaren 720s, and Mercedes Benz G-Wagon.
Lamborghini Aventador
Bitcoin bought a Lamborghini Aventador worth over $200,000 in 2019. He has an unmatched love for supercars.
Rolls Royce
McLaren 720s
BMW
Mercedes-Benz G-wagon
Bitcoin Chief houses
Gaius Chibueze popularly known as Bitcoin Lord owns undisclosed mansions in Miami and Nigeria. He is a renowned real estate investor and he knows the value of investors in the industry.
Gaius Chibueze (Bitcoin Chief net worth)
Gaius Chibueze (Bitcoin Chief)'s net worth is estimated at $10,000,000. He has amassed huge wealth from cryptocurrency, real estate, and other businesses over the years.
The thing to know about Gaius Chibueze (Bitcoin Lord)
Full name
Gaius Chibueze
Date of birth
3rd March 1998
State of origin
Enugu State
Nationality
Nigerian
Wife
Kevin Oluchi Chibueze
Children
Russell Ikemba Chibueze and Chimaroke Ekun Chibueze
Net worth
$10,000,000
Cars
Mercedes-Benz G-Wagon
McLaren 720S
BMW i8
Lamborghini Aventador
Rolls Royce
BMW SUV
Businesses
Real Estate
Cryptocurrency