A few days ago, I reviewed the plug-in hybrid 2021 Range Rover Evoque, here I am today reviewing the specifications and price of the 2021 Range Rover Velar in Nigeria. The mid-size luxury SUV offers customers the perfect balance of design and technology especially now that it comes with electric power.
With the plug-in 2021 Velar, you don't have to worry about your fuel because you are covered with the new hybrid systems. Without wasting much time, let's get down to the review of the day.
2021 Range Rover Velar Plug-in Hybrid engines
2.0-liter four-cylinder
The new 2.0-liter four-cylinder P400e Plug-in hybrid offers a very smooth and refined drive. it produces a total of 404PS and 640Nm of torque. Breaking it down, the petrol engine produces 300PS while the electric motor produces 105KW. With this engine combination, the Velar can accelerate from rest to 60 mph in 5.1 seconds.
It comes with an impressive real-world all-electric range of 53km (33 miles),* fuel economy of up to 2.2 litres/100km* (130.2mpg), and CO2 emissions from just 49g/km*, the Range Rover Velar is now even more sustainable by design.
3.0-litre straight-six Ingenium engine
  A new 3.0-litre straight-six Ingenium engine is also introduced to the 2021 Velar. This is the first time this engine is used in the model. The new P340 and P400 straight-six engine produce 480Nm/550Nm of torque while the powerful P400 can accelerate from 0 – 60 mph in just 5.2 seconds. 
The new engine comes with 48-volt mild hybrid electric vehicle technology for reduced fuel consumption and heightened refinement. All come with petrol all-wheel-drive variants and each is fitted with air suspension.
It features an electric supercharger supported by a twin-scroll turbocharger and Continuous Variable Valve Lift [CVVL] for more refined performance.
  Its D300 variant generates 650 Nm torque that offers 0-60 mph in 6.1 seconds with a fuel economy of up to 38.2 mpg CO2 from 194g/km. The use of sequential turbos and the advanced after-treatment system makes the engine to be among the world's leading clean diesel engines.
The next-generation four-cylinder Ingenium D200 is introduced on the Range Rover Velar. It offers more power, lower CO2, and improved fuel economy. All the engines offer the same 48-volt mild-hybrid technology.
Charging the hybrid battery
Under the boot floor is a 17.1kwh lithium-ion battery that can be charged to 80 percent in just 30 minutes using a fast DC charge point, or you can charge it using a 7kw wall box in 1 hour 40 minutes.
The interior
The tranquility in the 2021 Range Rover Velar is out of this world. The company added an Active Road Noise Cancellation. The technology works like a pair of high-end noise cancellation headphones, it constantly monitors vibrations from the road surface and calculating the opposite phase sound wave needed to remove the noise heard by the occupants. This will reduce the interior noise to the barest minimum.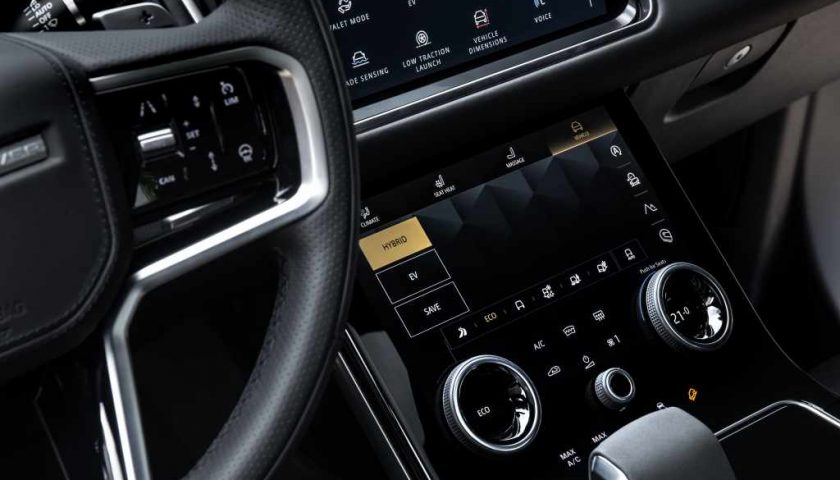 To attain a cleaner cabin, Range Rover added a new Cabin Air Filtration system that reduces the level of harmful particulates, pollen, and even odors. It can be activated by clicking on a "purify" button on the lower touchscreen.
A new second-generation wearable Activity Key which can replace the traditional key fob when necessary. It's a water-resistant and shock-proof wrist device. Customers can start, stop, lock, and unlock the vehicle with no need to take a traditional key fob out with them.
The 2021 Range Velar received a new steering wheel design that has integrated smart buttons and ready to receive the latest ADAS software updates over the air. The rotary gear selector has been replaced by the new Drive Selector.
The exterior design
The new wheels
2021 Velar is debuting with 20-inch black alloy wheels. It's worthy to note that the Velar is built based on the R-Dynamic SE model. The larger wheels measure up to 22-inches in diameter, this aid in defining the stunning silhouette while further enhancing the Velar's dramatic presence.
The short front overhang and super-slim full-LED headlights further minimize visual weight. Its power rear overhang provides balance and highlights the Velar's imposing length, it also features a pronounced kick to add to the muscular stance. Every Velar feature slimline full LED headlights as standard. Four different LED headlights are available.
Its windscreen angle intersects powerfully with the front axle line and flows into the Range Rover floating roof design. The fixed and sliding panoramic roof options highlight the Velar's exceptional interior space by allowing natural lights into the SUV.
The exterior is made solely of aluminum.
With the Auto High Beam Assist [AHBA] you don't have anything to worry about while driving at night, the system detects lights ahead and automatically dips the main beam for the oncoming traffic.
Multimedia and infotainment
The 2021 Velar features two multi-function rotary controllers distinguished by their tactile, rubberized outer surface and satin chrome bezels. Twin analog dials with 5-inch TFT displays are placed in front of the driver.
Key information such as the speed, turn by turn navigation instructions, and active safety system warnings can also be displayed to the driver using the latest generation full-color head up display.
It comes with stainless steel speaker frets structure in the Meridian 17 and 23-inch speaker audio systems.
The driving modes
Drivers can select between three driving modes to best suit their requirements, whether they are making short urban journeys or long-distance highway driving:
EV (Electric Vehicle) mode – enables the vehicle to prioritize running solely on the electric power using the energy stored in the battery, for quiet, zero-tailpipe emissions journeys.
HYBRID mode (the default driving mode) – combines petrol and electric drive. This mode optimizes the comfort and efficiency of the hybrid system, automatically and seamlessly combining the electric motor and petrol engine. The strategy adapts to the driving conditions and the remaining charge in the hybrid battery. Additionally, entering a destination in the navigation system enables the Predictive Energy Optimisation (PEO) function, which intelligently integrates route and GPS location data to maximize efficiency and comfort for the selected journey.
SAVE mode – prioritizes the combustion engine as its energy source, maintaining the battery State of Charge at the chosen level, for deployment at a specific point in the journey – for example when entering urban areas.
2021 Range Rover Velar Engine variants
Diesel
D200 – 204PS, 2.0-litre four-cylinder diesel MHEV, 430Nm of torque at 1750-2500rpm, eight-speed automatic, AWD
D200 – 204PS, 2.0-litre four-cylinder diesel, 430Nm of torque at 1750-2500rpm, eight-speed automatic, AWD
D300 – 300PS, 3.0-litre six-cylinder diesel MHEV, 650Nm of torque at 1,500-2,500rpm, eight-speed automatic, AWD
D300 – 300PS, 3.0-litre six cylinder diesel, 650Nm of torque at 1,500-2,500rpm, eight-speed automatic, AWD
Petrol
P250 –250PS 2.0-litre four-cylinder petrol, 365Nm of torque at 1300-4500rpm, eight-speed automatic, AWD
P340 – 340PS, 3.0-litre six-cylinder petrol MHEV, 480Nm of torque at 1500-4500rpm, eight-speed automatic, AWD
P400 – 400PS, 3.0-litre six-cylinder petrol MHEV, 550Nm of torque at 2000-5000rpm
P400e – 404PS, 2.0-litre four-cylinder petrol PHEV, 640Nm of torque at 1,500-4,400rpm
Global pricing of 2021 Range Rover Velar
Globally, the official retail price of the 2021 Range Rover Velar is pegged at 46,110 Euros.
Price of 2021 Range Rover Velar in Nigeria
The price of 2021 Range Rover Velar in Nigeria will range from 38,000,000 Naira. It covers the duty and other taxes, without the taxes, the price will range from 21,000,000 Naira.
Where can I buy Range Rover Velar in Nigeria?
If you are looking forward to buying a Range Rover Velar in Nigeria, do well to read this article on the price of Range Rover Velar in Nigeria.
You can check our listings on brand new, tokunbo, and Locally used Range Velar for sale in Nigeria.