Howo Sinotruck has won the hearts of so many Nigerians due to its power, stability, and low cost of maintenance. Howo dump trucks can be used for conveying sand, chippings, and other materials from one place to another. In today's brief price review, I will give you a rundown of the price of foreign used tokunbo Howo Sinotruck dump trucks in Nigeria.
They are so many variants of the dump trucks but we will be reviewing the 30 tonnes and 40 tonnes capacity trucks.
Before buying a used truck, read about things to check and consider before a used truck in Nigeria in our previous blog post so you don't make mistakes that will cost you millions.
Price of tokunbo Howo Dump trucks in Nigeria
I will review both the price of the direct foreign used Howo trucks and the refurbished dump truck. Refurbished trucks are also tokunbo trucks but the difference is the fact that they are worked and some of the worn-out parts are changed to make them stronger and last longer. In most cases, you cannot differentiate between a refurbished truck from a brand new one.
| | |
| --- | --- |
| Price of tokunbo Howo Sinotruck dump trucks in Nigeria | 21,000,000 to 24,000,000 Naira |
Price of refurbished Howo Sinotruck dump trucks in Nigeria
  The price of refurbished Howo dump trucks in Nigeria ranges from 22,000,000 to 25,000,000 Naira depending on the condition and amount of work done on it.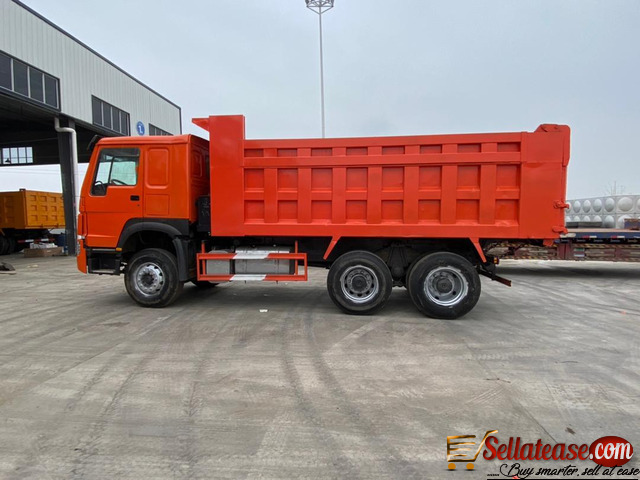 Which year is advisable to buy?
I always advise my customers to buy from 2015 model because they are newer and they will serve better.
Where can I buy tokunbo Howo Sinotruck dump trucks in Nigeria?
Check out our listings on brand new, tokunbo, and locally used Howo dump trucks for sale in Nigeria at giveaway prices.
Or you can contact Alpha Wheels on 08107992356 for a sound and neat truck at a giveaway rate. We will always send you scanner reports and everything before you buy any truck from us. We also give a warranty on all our trucks.