The sporty design, the star diamond headlamp, the luxury cabin, and the Nebula wheel hub make the 2023 Changan CS85 Coupe stand out from other coupes. All series comes standard with a Bluecore 2.0T engine which is mated to an Aisin 8-speed automatic transmission for enhanced performance both on-road and offroad. We will be reviewing the full specifications and price of the 2023 Changan CS85 Coupe in Nigeria.
The exterior design
On the front, the CS85 Coupe features an aggressive butterfly grille, and a streamline that flows from the engine hood to the side, this gives the car that sporty and dynamic look. Also available are the crystal LED headlamp and matrix LED fog lamp.
The rear of the coupe is carefully designed by a team of Changan engineers to increase the coupe's aerodynamics. The rear features a through-type brake light, quad exhaust pipe, high-quality trim design, and ruby LED taillight.
Dimensions
The coupe measures 4720mm in length, 1845mm in width, and 1665mm in height.
Interior design
For the 2023 model, the CS85 Coupe is debuting with a more spacious interior, thanks to the over 2700mm wheelbase and 950mm headspace. The interior features fancy ambient LED lights with 64 available colors to choose from, high-quality leather seats, and ergonomic dynamic seats.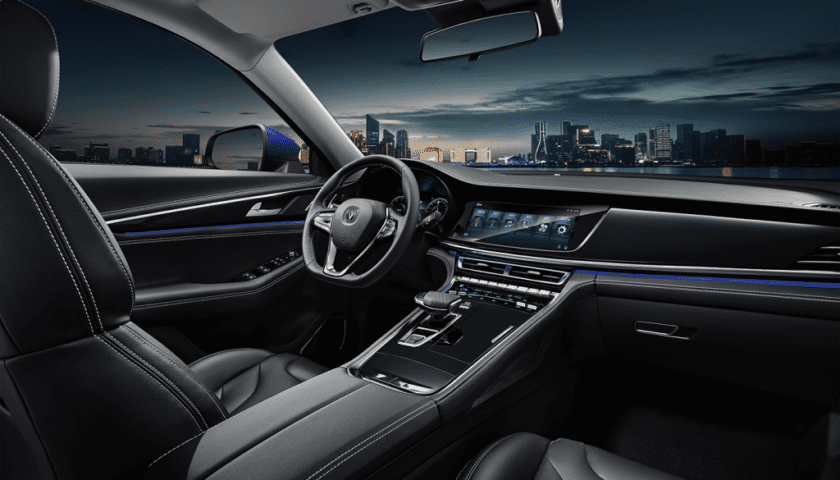 Occupants will enjoy cleaner air, thanks to the leading NVH technology, dual-zone A/C control, and forest air purification system.
Driver's comfort has been enhanced with the addition of the D-shaped multifunction steering wheel with a flat bottomed design which gives more space for the driver's leg, yacht-style gearshift lever, and ergonomic design with high-quality leather seats.
Humanized console with a touch button and a mechanical button with piano style design makes the cabin even more accessible. 29 storage spaces are available in all in addition to the 418L trunk space.
Entertainment system and comfort
Standard across all series is the retina-level 12.3-inch touch screen which comes standard with a resolution of 1920 by 720 pixels.
Electronic boot opener and remote keys with engine start function are standard across all series.
Advance driver assistance systems in the 2023 Changan CS85 Coupe
Standard driver assistance systems include:
Driving Record
ACC Auto Headlights (High beam switching)
Blind Spot Detection
AVM
Autonomous Emergency Braking (AEB)
Automatic Parking Assist + Remote Parking
360 Degrees Panoramic Camera
LDQ & LCA
Reverse Warning
Engine, power, and performance
Standard across all grades is the BlueCore 2.0L T GDI turbocharged gasoline direct injection engine which produces 233hp at 5,000 to 5,500 rpm and torque of 360 Nm at 1,750 to 3,500 rpm. The Coupe shares the same engine as the 2023 Changan CS95 SUV.
Transmission, fuel efficiency, and speed
The engine is mated with Aisin 3rd generation 8-speed automatic transmission. Changan chose this transmission due to its numerous advantages which include:
Excellent fuel economy
Comprehensive control functions
Efficient transmission performance
Fast shifting response
Advanced neutral gear function
The coupe can accelerate from 0 to 100 km/h in just 7.5 seconds. Its fuel efficiency is rated at 7.9 L per 100 km.
Price of 2023 Changan CS85 Coupe in Nigeria
The price of the Changan CS85 Coupe in Nigeria is 40,000,000 Naira.
Specifications of 2023 Changan CS85 Coupe
| | |
| --- | --- |
| Make | Changan |
| Model | CS85 Coupe |
| Model year | 2023 |
| Engine | BlueCore 2.0L T GDI Turbocharged Gasoline Direct Injection Engine |
| Transmission | |
| Power | 233 hp at 5,000 – 5,500 rpm |
| Torque | 360 Nm at 1,750 – 3,500 rpm |
| Tires | 225/55 R19 alloy wheels |
| Fuel tank capacity | 58 liters |
| Price in Nigeria | 40,000,000 Naira |