Lucid Air is an electric car whose prototype was unveiled by Lucid Motors in December 2016. The car is a 4 door sedan, it can attain a range of 517 miles on a single charge if the EPA test cycle is used. Lately, Lucid air has been the talk of the town since a popular Nigerian, Silverbird Boss and Ex-Senator of Bayelsa State Ben Bruce Murray bought one. That's why I made out time to write the full specifications and price of Lucid Air in Nigeria.
Lucid Motors from its onset has the vision to create the world's best EV technology and also make it progressively more attainable over time. They achieved the goal with the release of the Lucid Air. Aside from being an EV, it's also the world's fastest charging EV.
Charging
The electric sedan is the worlds fastest charging EV in the market. It can charge as fast as 20 miles per minute, this means that it can charge up to 300 miles of range in just 20 minutes. The sedan can attain an estimated EPA range of up to 517 miles on a single charge.
The fast charging is achieved with an ultra-high 900V+electrical architecture, custom lithium-ion battery cells, a highly sophisticated battery and thermal management system, and exceptional powertrain efficiency.
Aside from external charge, Lucid's "Wunderbox" offers a unique and innovative onboard charging unit that efficiently combines several functionalities in one package and makes the Lucid Air fully compatible with public charging stations. This includes an ever-expanding nationwide network of 350KW fast chargers.
Power
The 2021 Lucid Air produces up to 1,080 horsepower from available dual-motor, all-wheel-drive architecture. It can achieve quarter-mile times as quickly as 9.9 seconds on a consistent, repeatable basis. The power in the Lucid Air is the same as the power of the latest Hummer EV lineup.
The race-proven battery packs
The 2021 Lucid Air battery pack consists of a 113kwh extended-range battery pack. This is brought about by the company's 10 years of experience and over 20 million miles of testing. Its battery technology excels with a custom Battery Management System (BMS), clever cell packaging, and world-class energy density.
Interior
Lucid Air offers a full-size luxury class interior while maintaining an agile sports sedan footprint. This approach resulted in the largest frunk of any electric car to date and incredible bi-level storage capabilities in both front and rear compartments.
Aerodynamics
The drag coefficient of Lucid Air is pegged at 0.21.
The Glass cockpit design
The front of the driver is a 34-inch curved Glass Cockpit 5K display that floats above the dashboard, this contributes to the light and airy feel of the interior.
The vehicle's systems can be controlled by both the passenger and driver through the help of a retractable central Pilot Panel.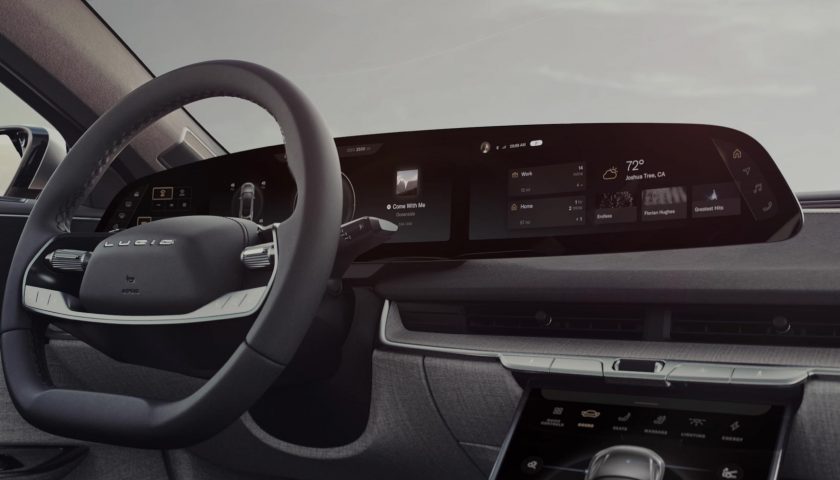 Lucid Air's advanced driver assistance systems (ADAS)
Being the first of its kind, the platform combines the most comprehensive sensor suite on the market with a cutting-edge Driver Monitoring System (DMS). This system is standard across the lineup.
The system comprises 32 sensors, covering vision, radar, and ultrasonics, plus the world's first standard high-resolution LIDAR in an EV. All these systems work alongside the standard DMS and geo-fenced HD mapping to provide the safest possible approach to Level 2 and Level 3 driver assistance technology.
The car aside from its beautiful exterior comes with high-tech safety systems that can save your life as well as making driving easy for you.
Alexa's native voice is also integrated into the Lucid Air.
Read: Specifications and price of 2021 Tesla Model X in Nigeria
Lucid lightings
The lighting technology in this sedan is second to none. Its headlamps are made of a Micro Lens Array system that comprises thousands of light channels. This provides the brightest, most precise, and advanced lighting system ever.
Various trims of the Lucid Air and their global pricing
The Air, the starting point for the lineup, available in 2022, from $77,400 ($69,900 after USA federal tax credit)*
The well-equipped Air Touring model, available late 2021, from $95,000 ($87,500 after USA federal tax credit)*
The fully equipped Air Grand Touring, available mid-2021, from $139,000 ($131,500 after USA federal tax credit)*
The all-inclusive, limited-volume Air Dream Edition, available spring 2021, at $169,000 ($161,500 after USA federal tax credit)*
The Dream Edition
The Dream Edition will feature a unique combination of Lucid attributes and technology, this will combine incredible performance with exceptional range.
The 1,080hp luxury EV sedan will be available in Stellar White, Infinite Black, or a Dream Edition-exclusive "Santa Monica" themed interior trim package, including full Nappa grain Bridge of Weir leather throughout and silvered Eucalyptus wood accents.
The Dream Edition will also feature a unique 21-inch "AeroDream" wheel design and be highlighted by special badging and trim that marks its position as a limited-production halo edition of the Lucid Air.
Touring and Grand Touring Editions
Air Touring and Air Grand Touring models are the heart of the Lucid Air lineup, they offer 620hp and 800hp respectively. The Air Grand Touring will have a range available up to the recently announced estimated EPA rating of 517 miles.
List of Nigerians who has the Lucid Air Electric Vehicle.
Currently, now, Ben Bruce Murray is the first Nigerian to buy a Lucid Air EV, the car is en route to the country. He announced the purchase on his social media handle. He called for the ban all combustion Engine cars by 2035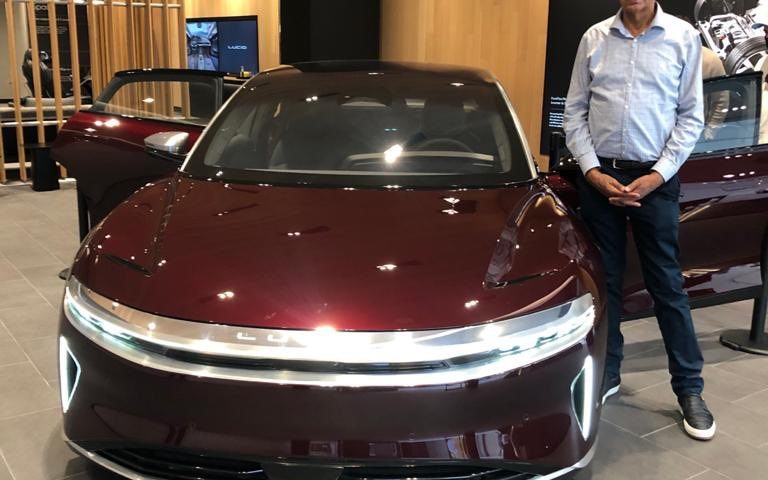 Lucid Air EV price in Nigeria
The Lucid Air EV price in Nigeria will start from 50,000,000 Naira for the base model. The premium model can be as high as 130,000,000 Naira.
Can I buy Lucid Air in Nigeria?
Yes, you can buy a Lucid Air in Nigeria. So many people have bought Tesla cars in the country so your own won't be different.
Where can I buy Lucid Air in Nigeria?
You can only pre-order this luxury Lucid Air EV.
If you have any questions related to this topic, drop them in the comments below or Whatsapp me on 08107992356.